Fees
My aim is always to meet client's needs in the least time possible according to their condition.
£50 – Standard Hypnotherapy Session – approx 60 to 75 minutes      
£120 – Smoking Cessation – A One Off Session – approx 90 minutes     
The number of sessions required varies according to individual needs and type of treatment required.
Smoking cessation is a one off session.
Phobias can also be sometimes dealt with in one session. Other conditions such as anxiety, depression generally require multiple sessions.
Payment can be made by Cash or Credit/Debit Card. Online bookings can be made using PayPal, or Bank Transfer by arrangement.
Cancellation Charge – If less than 24hrs notice is given for the cancellation of an appointment 50% of the normal session fee will be required before booking a new session. 
Arrange Your Session Now
Tell Me What You Wish To Achieve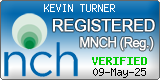 HPD -

Hypnotherapy Practitioner Diploma

PNLP -

Practitioner of Neuro Linguistic Programming
My name is Kevin Turner and I am a fully trained and qualified  Hypnotherapist  and practitioner of NLP, or Neuro Linguistic Programming.
Address: 45 Barnacre Close, Fulwood, PR2 9WN
Phone: 07944 557083