Welcome to Inner Self Hypnotherapy
, 
 Hello and Welcome to my Website.  
 I have long had a personal interest in Hypnosis and how it can help us break past mental barriers and reach a place where we can make changes in our subconscious that can have a gentle but powerful effect on the way we think, feel and behave.  
My name is Kevin Turner and I am a Fully Qualified Hypnotherapist and NLP Practitioner based in Preston, Lancashire.
I have a particular interest in anxiety related issues and disorders, phobia and self limiting beliefs and am passionate about helping clients change their lives for the better.
I have found anxiety is at the root of so many issues clients come to see me about. I have helped people with general anxiety, and specific fears such as fear of swimming, fear of flying and social anxiety. Hypnotherapy can be employed to make changes to how we process information, how we respond, and how we feel about things in the past and present.
Health fears are also quite common, as are sleep issues and anxiety attacks. Often people just want some extra help dealing with stress due to work or relationship issues, studying or other matters.
I also utilize Cognitive Behavioral Therapy or CBT techniques in therapy which is helpful for dealing with intrusive and unhelpful thoughts at the conscious level. Hypnotherapy is used to address what goes on at the subconscious level.
Combining Hypnotherapy with CBT techniques gets the best results, both are demonstrated to be highly effective when compared with other talking therapies.
The therapy I offer is completely tailored to the individual, no one size fits all.
To be truly effective, hypnotherapy must be precisely aimed at a client's own needs, which are as individual as you are! This is why I advocate personalized hypnotherapy and not the kind of 'off the peg' type that one can buy in books, CD's and in other forms.
I am fully insured and registered as a Hypnotherapist.
I would love to hear from you and so please do get in touch if you would like to make effective, positive and lasting changes to improve your life. I look forward to meeting you and working with you to achieve your goals.
Janet Wilkinson
2021-12-02
I had my first session with Kevin last week. I suffer really bad with anxiety. Havnt been able to go to many get togethers it was so bad. I was on prescribed medication from the doctors. Anyway long story short after just one session I've had no medication and I went to a family party and no anxiety! I'm off to Edinburgh on Monday and I can not wait! Thank you so much you've given me my life back 😊
Very knowledgable and very friendly. Offers a variety of treatments including CBT and NLP. Would deffinatlely recogmend Kevin to anyone who needs help get back to where they were.
Kevin is an hypnotherapist, the moment you meet him, the aura and energy is something quite special. A true hidden gem of Preston. thanks Kevin.
Nicola Thompson
2020-01-24
After one session with Kevin I feel much more relaxed and less stressed. I was struggling with tension in my jaw and the session helped me a lot. The tension had eased and I feel I can cope better next time I get stressed. Thank you
catherine carroll
2018-12-12
I had a session of hypnotherapy for pain in my shoulder. I have an on going neck problem that causes pain to radiate into my shoulder and arm. I used to take pain relief daily and no longer wanted the side effects of the medication. Following my session with kevin I no longer have pain in this area and do not need pain relief. Fantastic service, very professional and works. I would recommend as it has helped me massively, I can now sleep at night without pain waking me up which is amazing.
I adhere to the guidelines laid down by the Government, the Complementary and Natural Healthcare Council and the National Council for Hypnotherapy regarding safety and sanitation for the health and well being of clients.
I also offer Online Hypnotherapy Sessions using Zoom, If you prefer, and have a suitable safe and quiet place at home that you can use for an online hypnotherapy session.
Hypnotherapy Preston Lancashire.
Watch my short video below to learn how hypnotherapy works.
Seasonal Affective Disorder (SAD)
Arrange Your Session Now
Tell Me What You Wish To Achieve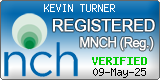 HPD -

Hypnotherapy Practitioner Diploma

PNLP -

Practitioner of Neuro Linguistic Programming
My name is Kevin Turner and I am a fully trained and qualified  Hypnotherapist  and practitioner of NLP, or Neuro Linguistic Programming.
Address: 45 Barnacre Close, Fulwood, PR2 9WN
Phone: 07944 557083